PlanetHoster Review
published on 16 October 2022
(updated on 16 November 2022)
There are so many web hosters now a day, it's quite difficult to know what is the best pick, if hosters are reliable, have good customer support, and offer good services.
Today we'll speak about PlanetHoster, the Canadian web hosting company. It's a solid contender in the world of affordable web hosts. Founded in 2007 and based in Quebec, it's now a well-established company and one of the strongest hosting solutions in North America and Europe. Even if you are not located in these regions, PlanetHoster will of course makes a good job anyway!
You already know you want PlanetHoster? Use the promo code and get 10% off!
Voir Sommaire
Here, we will discuss PlanetHoster as a shared hosting solution called "The World". I don't know what it's like to use other services, like a dedicated server, VPS, or a more advanced hosting setup.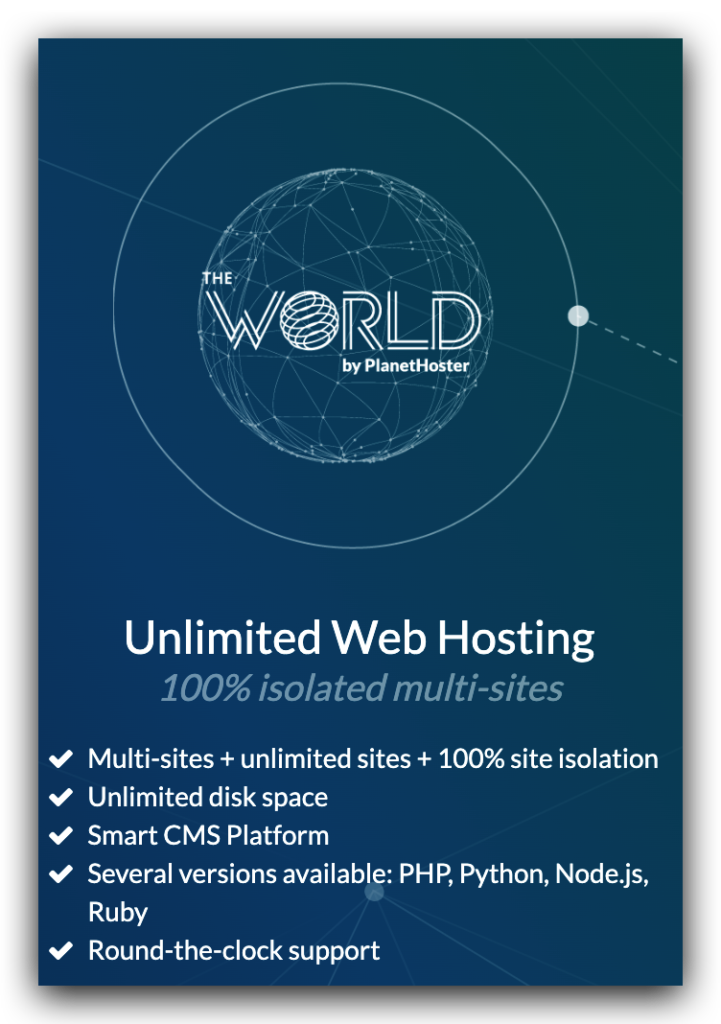 So if you are looking for a simple solution to host a website, like a WordPress website typically, then you'll find interesting information and data that are relevant to you in this article.
Cons
Cannot isolate different websites if you are using Litespeed with low resources.
Little bit more pricy than the cheapest competitors
Pros
Free VPN (France and Canada IPs) (with the VIP bundle)
Excellent and fast support (English and French)
WP CLI built-in with Ssh access
Support for PHP, Node.js and Python
Multisites
Main features of PlanetHoster
| | |
| --- | --- |
| Planethoster Features | |
| Shared Hosting | yes |
| Dedicated Hosting | yes |
| Multisites | yes |
| Litespeed cache solution | yes (as an option) |
| Linux Servers | yes |
| Ssh access | yes |
| WP CLI | yes |
| Node.js | yes |
| Python | yes |
| Price montly | yes |
| Price annualy | yes |
| 24/7 support | yes |
Shared Web Hosting solution
PlanetHoster has different offers, but the one we are going to focus on is shared web hosting. This is maybe the most common offer on the web. While sharing the same resources with other websites, allows us to reduce the cost and therefore have access to a good quality service for a reasonable price.
I've been using this solution for websites that have a moderate traffic load, between 5000 and 50 000 pageviews a month. And I never had issues with Shared Web Hosting. It works well for standard websites that do not need to operate heavy calculations. And this is honestly the case for 95% of the websites out there.
With PlanetHoster it's easy to start and create an individual website with the solution. You still have access to many features and configuration adjustments that are not available from most competitors. Like allocating resources per website, adjusting the php.ini file (there are limitations), and having access to LiteSpeed Cache solution.
The PlanetHoster Shared Web Solution is called "The World".
It let's you choose the resources you allocate to your hosting. You can buy "units" of CPU, of memoy and Disk I/O.

You can then choose how to spread your units across your different sites. It means you can have one site with more CPU and Memory, and another one with lower CPU and Memory.
It's an advantage to be able to manage the resources, you can obviously buy more resources if you need more of them.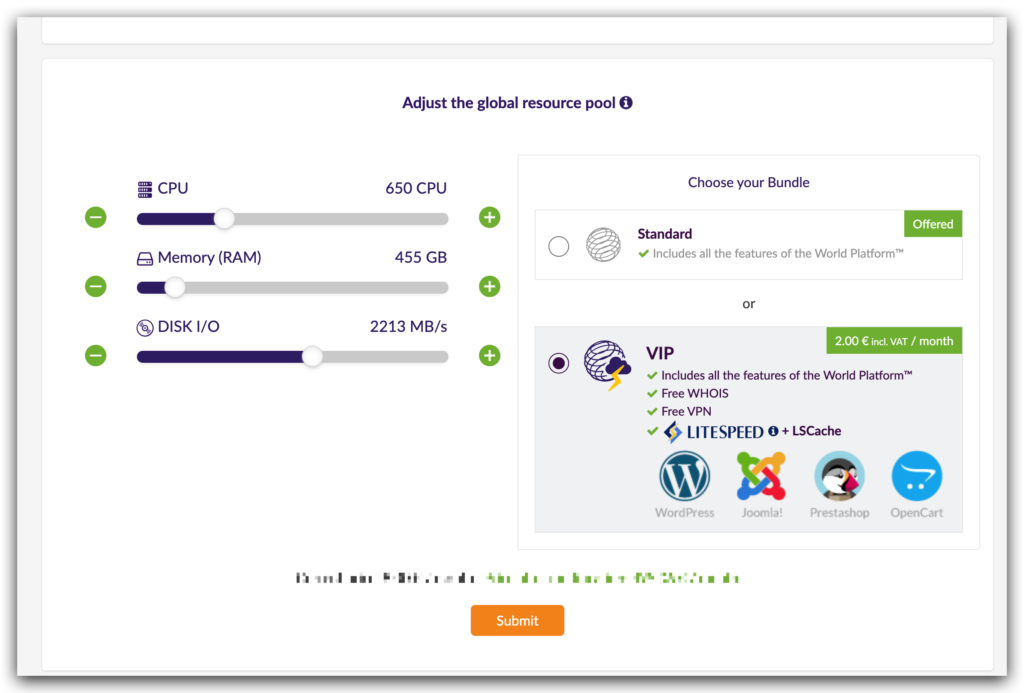 N0C: PlanetHoster Dashboard
This is the central tool you'll be using to manage your server, your domains, your websites, and the configuration of the different tools, and languages of your server.
It's nothing revolutionary but it does its job well. You have easy access to all the important settings of your online hosting. The menu on the left will give you a good idea of what is possible from N0C.
If you are used to another Server manager like CPanel, I believe you can switch from N0C to CPanel, but the PlanetHoster community recommends using N0C. You always have the possibility to access your server through standard SSH.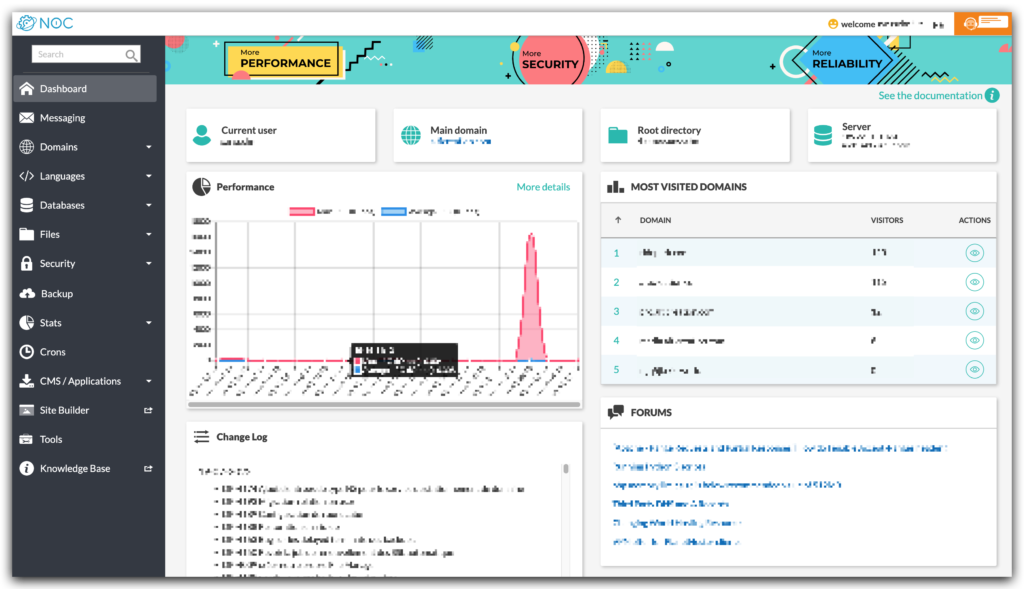 WordPress Web Hosting
PlanetHoster is a web host that helps you set up a WordPress website really easily, you can do it straight from the admin dashboard called N0C. It's a simple form that you have to fill out, and that's it your WordPress installation will be ready in no time!
PlanetHoster has WP CLI preinstalled
The great news for developers who are used to installing multiple instances of WordPress is the possibility to install WP CLI via an ssh connection to your PlanetHoster Web Server. Yes, it's possible, it's free and it's available on Shared Hosting. That's a big advantage when it comes to managing several WordPress installations. It provides a tone of commands to automate your work and save time. If don't know it yet, you should check the official website.
Litespeed for WordPress Host
PlanetHoster is one of the few Web Hosts to give you access to a powerful caching tool called LiteSpeed. And it's certainly one of the best cache solutions on the market for WordPress websites. It's easy to install and configure, through an official WordPress plugin.
Don't forget that LiteSpeed is not a free / open-source project, so you need to pay a license to access and use LiteSpeed.
When you are going to adjust your resource pool, you can opt-in for VIP. It's a few dollars extra a month, but it might make a big difference for your website(s).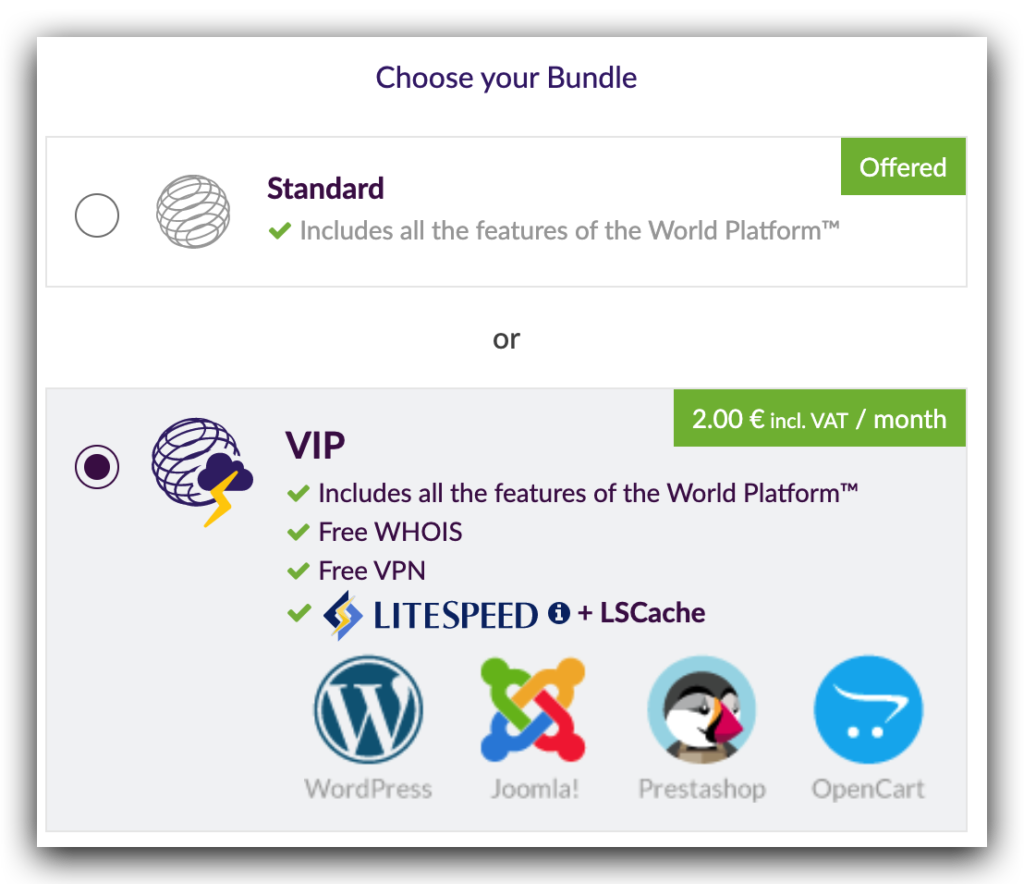 It will help you deliver a faster website with better performance. You'll rank higher on the performance scale, which is used by Google in its main algorithm.
So to make it short, LiteSpeed helps you rank better on Google. It needs some configurations, but nothing out of reach even for beginners. You just have to go to the WordPress plugin and start by activating the LiteSpeed plugin.
Multisite hosting
The offer called "The World" is just fine to host multiple websites. WordPress, static websites, custom PHP websites, or any other kind of Content manager will just be fine side by side with other websites. You allocate a domain or subdomain per folder and that's it. The unlimited SQL databases policy let you create as many independent databases as you want. So having multiple sites on a single account with "The World" offer is absolutely possible and works really well.
You can even attribute different IPs per domain or per subdomain.
That makes it a clean solution to separate the websites from a technical point of view. Some websites can be hosted behind a French IP and others behind a Canadian IP. All that with the same single offer.
Multisite and LiteSpeed
Important note!
If you decide to buy LiteSpeed along with your "The World" hosting solution, you will not be able to split the resources. They will have to be directed to a single "installation". You can still have multiple websites, but they will not be isolated from each other. If you want LiteSpeed and the "isolation" feature, you need to allocate more resources than the minimum required.
Security Features
PlanetHoster has a descent Firewall (called We App Firewall WAF) with a set of rules predefined. And they play their roles nicely, you can activate or deactivate each of the directives on a per-domain basis. Which allows you to have different levels of protection in different domains. It can be useful when you actually need to allow some rules for specific reasons on specific websites.
On top of the rule settings, you also have access to a journal. It helps understand what are the main threats and how they have been mitigated. Again you can filter the history per domain.
Customer Support
With PlanetHoster all of my tickets and following up answers have been made in less than one or two hours.
I had 4 tickets opened with customer support. I usually don't try to speak with customer support as my experience with other hosting support providers has been terrible. Waiting days before getting a generic answer that arrives too late.
With PlanetHoster all of my tickets and following up answers have been made in less than one or two hours. And it has never been an automated, AI answer that redirects you to a forum or documentation. Every single time a technical agent answer each of my issues and questions extremely fast and with good accuracy. As always if you explained your problem well, and take the time to document your ticket correctly the answer you'll get will be more concise and helpful.
Live chat is also a good solution when you are in panic mode. I remember waiting 10-20 minutes to get connected to an agent. But it all depends on the time of the day, and if it's over the weekdays or weekends. If you ask me to compare the Live chat with other Web Hosts, it's by far my best experience.
So if you had to choose PlanetHoster for one single thing, it would be its top-notch support.
Pricing
Pricing is overall a little bit higher than other competitors. To be fair, they are actually not that expensive in regard to what PlanetHoster has to offer.
A good interface to manage your hosting, and great support, it can support different languages (PHP, Node.js, Python…), has unique features like LiteSpeed, and let you adjust the resources as you need. This overall flexibility has a little price that is totally worthy it.
Being able to speak quickly to a technician, adjusting your websites through WP CLI and SSH, having a good cache solution… When you think of it, it's an excellent price in regard to these great features.
PlanetHoster Promo Code
If you are looking for a PlanetHoster Promo Code, you can certainly use mine: PHA-go-alticreation
It gives you a 10% on your order and it will also give me a percentage, so everybody wins!