Test Logitech Master MX 3s Mouse
published on 13 October 2022
(updated on 16 October 2022)
I always had a "regular" mouse, because a mouse doesn't need to be fancy, it just has to point & click. Until I needed a replacement for one that wasn't working anymore…
I went to my local shop and decided to try one of the most expensive models. Reason: I'm a front-end developer and sometimes, I have some tendinitis pain in my hand, and also because I could return the mouse if I wasn't satisfied. It sounded like a safe choice!
Today, after a few months, I realized I took one of the best decisions in my developer life!
Voir Sommaire
See price on Amazon.com See price on Amazon.ca
First impression
When you first use the mouse, you can feel that it's well-built. The rubber grips used are premium quality and feel good under your hand. Not too grippy, not too smooth. The metal-like portion of the mouse are also strong and definitely looks sturdy while practical to use, like the two metal scroll wheels.
At first glance, the shape of the mouse is quite unique. Far from the traditional basic mouse. This is definitely a mouse that falls well under your hand. Put your hand on it and you will not want to quit it anymore. This is what we call a good ergonomy!
Ok, now let's dive into the more technical aspect of the Logitech Master MX 3s.
Specifications of the mouse
Dimensions
The mouse is 125 mm long and 84 mm wide for 141 grammes. It's clearly not a small mouse that you will carry around for short or long travel.
Precision
It's an excellent sensor that we have on the MX 3S, precision can reach an excellent 8000 DPI making it precise and trustable on all kinds of surfaces. The DPI can be changed from 200 to 8000 DPI.
Buttons
Even if the mouse looks simple and plain, it carries 7 different buttons:
left and right click
back forward
App switch
Wheel mode-shift
Middle click
The scroll wheel
The main scroll wheel has this really nice feature that lets you choose from slow and controlled scrolling to super fast, smooth scrolling. You choose!
Wireless
You can connect through Bluetooth at a distance of 10 meters maximum.
Battery
The battery is excellent. You charge it through a USB-C connector (at the front of the mouse). To give you an idea of the life span of the battery, if you charge it for one minute (with quick charge), you get three hours of use!
There are more specs for this mouse, but I think I covered the most important ones.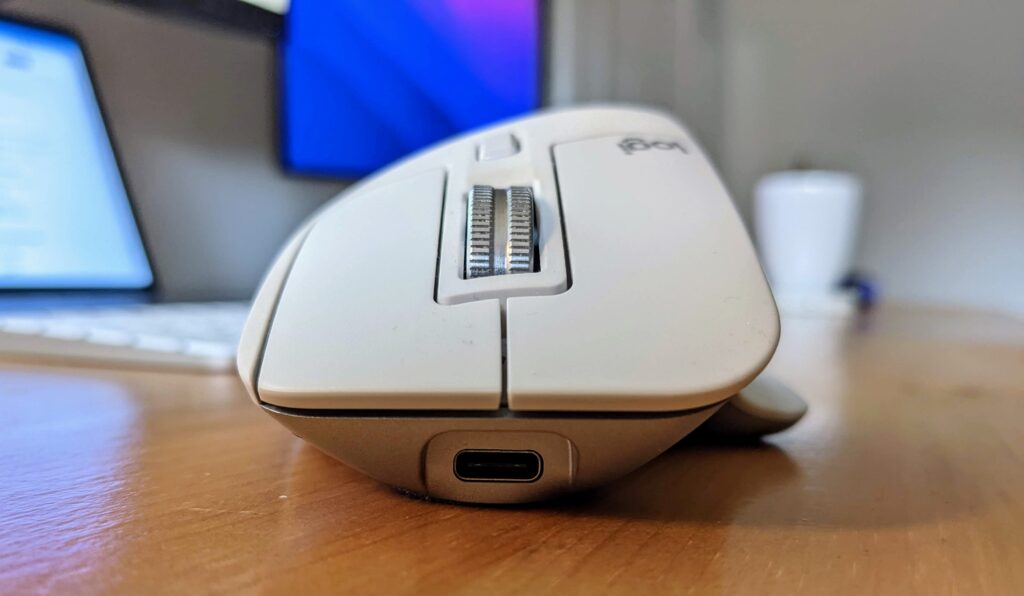 See price on Amazon.com See price on Amazon.ca
Ergonomy
This is how the mouse shines! By an excellent ergonomy. The shape says it all, you just need to observe the mouse to realize that it's a natural extension of your hands, once you place your fingers in it.
It's not too heavy and not too light. The bottom surface is smooth and slides really well on all surfaces. I'm using it daily on a wooden surface. Not that it is rough, but that's not a super regular surface. Never got a single problem! It moves so smoothly!
On the left side, the small curve going from horizontal to vertical is a perfect nest for your thumb. It will la naturally and effortlessly. Releasing the tension that accumulates over hours with other regular mice.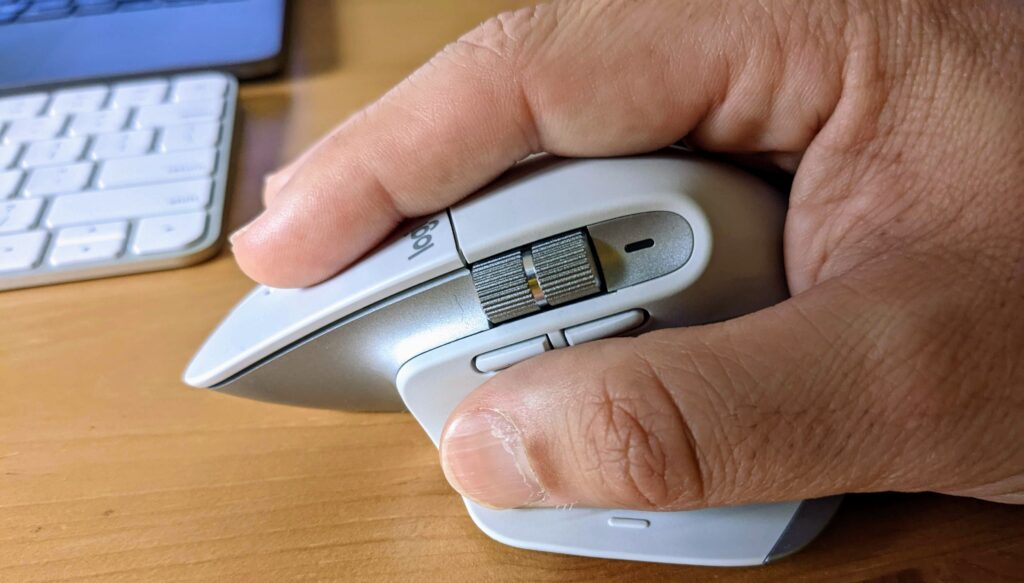 The left and right clicks for your index and your major are also really easy to reach and click. Your hand will be relaxed on this mouse, and this is kind of a new experience for me!
The quiet-click is a must
One important thing for me is the quiet-click feature that Logitech has set on this mouse model. The click noise, or should I say, the click sound is subtitle and inobstrusive. You can click while having a video meeting without making parasit noise in the background. That's a great advantage.
The same goes if you work in an open space. Over, the clicky constant noise, now you are like a furtive clicker! You work in silence and efficiently, honestly this is a big plus. However, if you like the noise of the mechanical keyboard, then it's maybe not a feature you'll be sensible to. Since you seem to enjoy disruptive noises! (Did you spot that I don't like a mechanical keyboard, haha).
Style & shape of the MX 3s
The style of the mouse is something that might put you off. Even if at first sight the mouse seems just like the other. If you observe from different angles, you will definitely notice that it's a unique shape. Not that pleasant to look at, but amazing to handle and move around. No doubt.
The nice finish and aspect of the materials make it looks like premium equipment, which it is. If you want to go for a stylish device that looks nicer but is definitely not ergonomic, then the Magic Mouse from Apple is a good pick.
See price on Amazon.com See price on Amazon.ca
The MX3s for Developers
As a Web Developer, the mouse doesn't seem to be the most important piece to develop. And I would agree with this statement. You don't need an external mouse to code. In some situations, an external mouse can be the wrong choice.
But that mouse is something else. With its side wheel, the thumb click, and the magic scroll feature, you gain superpowers that are super practical for a developer in the urge!
The side wheel can do so many things!
The side wheel is just above the natural position of your thumb on the mouse. It's easy to use and provides a nice sensation of control. It scrolls consistently and in a bold manner.
The beauty of this wheel is that you can customize what it does for you. The possibility is almost endless. Because with the Logitech+ app that you can (but don't have to) install along with your mouse, you can unlock some great options like customizing the wheel.
I personally use it as a virtual desktop switcher on my Mac. You just have to scroll nicely to move from one desktop to the other. I don't even remember how I was switching my desktop before that! But hey, since it's customizable, you are free to do what ever. You can also switch between the opened apps on your desktop. This looks like a good option too.
You can also use it as a tab switcher for Chrome… Well, you understood the point. This wheel is all yours, use it as you want to become more productive and have a better experience with your favorite OS.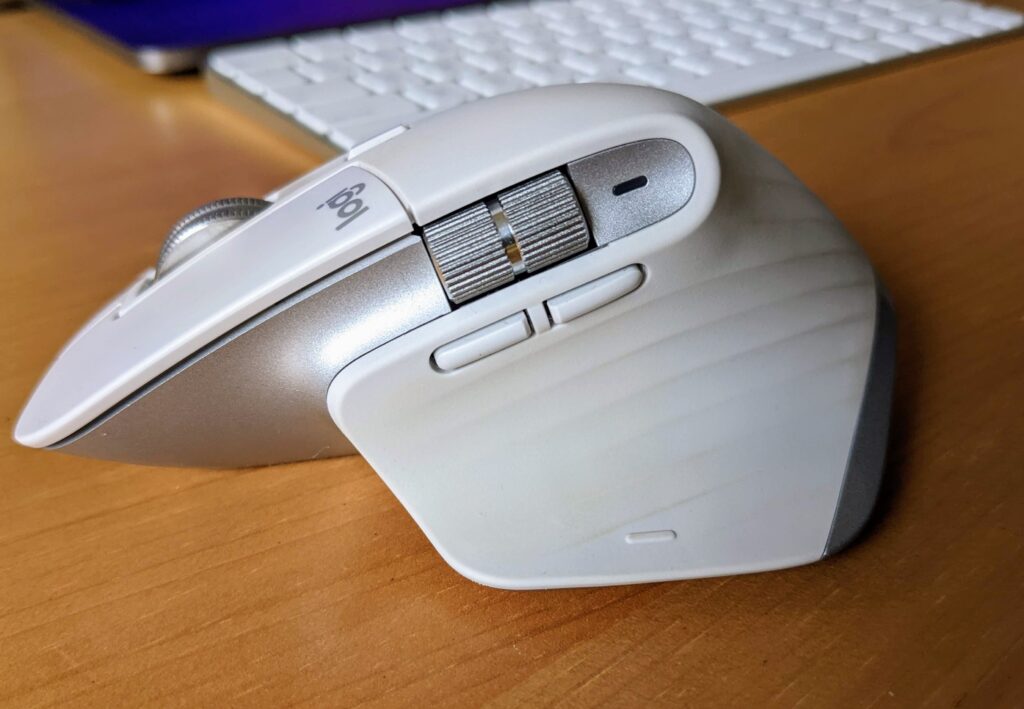 The magic scroll wheel
On the Logitech MX 3s, the scroll wheel looks like a regular wheel. And it is, except you can switch from a controlled, sharp, and indented scroll to a super smooth super fast scroll. It's extremely practical to scroll super long pages or screens from up to bottom.
Again, that's something you can do with your keyboard, there is always a shortcut to go up or down the document. But having the possibility to do it from the mouse in a natural way, is more satisfying and a less disruptive experience.
The thumb button (left side)
This button is giving an extra click for your thumb. It's super useful to have a new click on the mouse, and again you can customize it as you wish. Right now, I set it up as a mission control helper, when I click and move down, it shows all the windows of my active app, if I click and move up, it lets me move all the windows from my current desktop to any other desktops. Super useful, but not so intuitive to use, at least for me. I have some difficulty activating it. It seems less natural, maybe it'll come over time as I never had a thumb button before!
The front/back buttons
This is now a classic feature in mice, anyway, the MX 3s also carries a standard front/back, previous/next button set. You can also customize the actions associated with the buttons. They do the job and are well placed, nothing special about them, they just work!
See price on Amazon.com See price on Amazon.ca
The Logitech MX 3s on a Mac
The mouse works well on both Windows and Mac. I'm sure it does a great job on Linux too.
I will focus on the Mac environment because Apple doesn't let external devices play well with its ecosystem. This time Logitech is doing a good job and is proposing a super strong alternative to their All-Apple products. The Magic Mouse is a little bit ridiculous besides this super ergonomic and customizable mouse. That's just my point of view, but for the same tag price, I don't regret it at all my choice. Again, if you think that the visual design of your devices is more important than the ergonomic, then, you'll hate the MX 3s. It's definitely ugly compared to the Magic Mouse. But so much more usable…
Anyway, the MX 3s works right away on a Mac. No need to install additional software to access the features of the mouse. However, if you want to customize it, then you should download the Logitech+ app. It will be a great addition to your mouse and will let you personalize your mouse. You can even customize the mouse on a per-application base. Super appreciated for creative apps like the Adobe suite where physical controls are always a benefit (like the side wheel).
Verdict on the MX 3s
Overall the Logitech Master MX 3s is a solid mouse, built to last. It has a good battery, it's easy to charge with a regular USB-C plug (which is great in the closed Mac world ;-).
The design of the MX 3s tells a lot about what it can do for you. The great ergonomy will let your hand and your fingers relax, you'll feel the great precision under your hand is a source of great productivity while the customization of the different wheels and buttons makes the mouse an ally to work in a smooth way.
However, the shape of the mouse makes it hard to carry around, it's bulky and will be really difficult to slide into your laptop sleeve. You better invest in a good case for the mouse. But apart from this down point, the MX 3s is clearly one of the best mice for power users, who want to be efficient and fast!